A new industrial revolution is approaching, do you join?
Learn new topics in a new way and create your own path
WHAT
IN4WOOD has developed an online course focused on enabling technologies of Industry 4.0, with practical examples in the furniture and wood sector, but applicable in other contexts. The course is taught in a free and online web-based/mobile platform, with 300 learning video-pills (short videos of approx. 3 minutes) aimed at teaching key concepts to understand the digital transformation of companies towards Industry 4.0.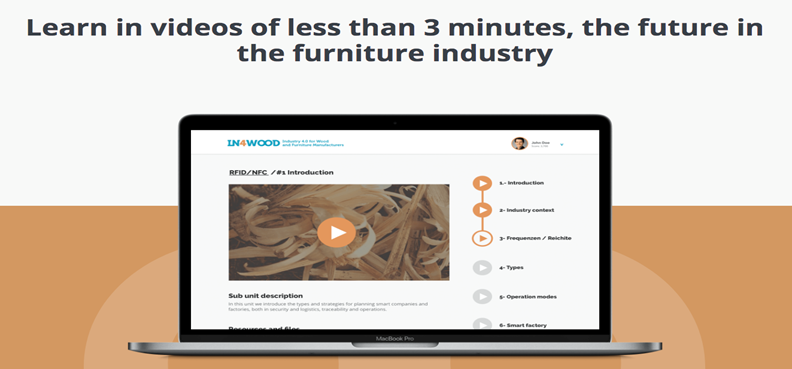 Training content is organised in 6 modules:
Introduction to Industry 4.0 (2 hours)
Hybridisation between physical and digital world (35 hours): RFID/NFC, sensors, wearables, 3D printing, augmented reality, 3D modeling and scanning and robotics
Telecommunications and data (15 hours): cloud computing, communications networks, cybersecurity, Internet of Things, integrated systems and big data
Management systems (15 hours): collaborative platforms, logistics management systems and workflow
Standards, certifications and legal issues of Industry 4.0 (3 hours)
Implementing Industry 4.0 solutions for Factories of the Future (20 hours): final course work
At the end of each training module, students have to pass a final test to check the knowledge gained. At the end of the course, students will receive a completion certificate for the modules that they successfully completed.
All training materials will be available in English, Spanish, Italian and German.
The training paths allow a blended mix of both classroom and remote learning so all participants, at all levels from students through to senior management can engage and learn in a module-based approach and learn at their own speed and around everyday commitments.
Check out our project video to get a first taste of what you can expect.
FOR WHOM
We are looking for students from all levels to take part in our pilot scheme that runs from the 15th of April 2019 until the 15th of June 2019. Duration is 9 weeks. We have calculated 90 hours of work (10 hours per week for those who want to complete the whole course). Users are free to manage their time/efforts per week and free to choose which modules they want to follow.
Target students include:
students enrolled in higher education and graduates: Bsc, Msc, Phd.
students enrolled in vocational training and graduates in VET
Unemployed people and workers seeking to improve their skills and competences on the topic of digital revolution of factories, toward the I4.0 era (account managers, production manager, logistics managers, manufacturing, project managers, IT developers, sales people, analysts, …)
WHERE
100 % online course
HOW TO ENROLL IN THE SPANISH COURSE:

Online from 25th of March until 14th of April 2019 via:  www.upct.es/seeu
HOW TO ENROLL IN THE ITALIAN COURSE:
Contact: Laura Rochi: laura@csm.toscana.it
HOW TO ENROLL IN THE ENGLISH COURSE:
Contact: Steve More: steve.moore@bfm.org.uk
HOW TO ENROLL IN THE GERMAN COURSE:
Contact: Victoria Gómez: maria.gomez@kit.edu
All courses are free, funded by the European Commission under the Erasmus+ IN4WOOD project (575853-EPP-1-2016-1-ES-EPPKA2-SSA)